About Us
Akhet Consulting's management has an inimitable blend of expertise covering the policy and regulatory side of the telco industry… Akhet Consulting has in-depth policy and practical understanding of the industry and the region, as it plays a key role in providing advisory services on policies and commercial objectives.
Bocar A. BA., CEO of SAMENA Telecommunicaitons Council
About Us
Akhet is a strategy consultancy focussed on the ICT sector grounded in commercial understanding of the converging world of ICT from a business, policy, government and regulatory perspective.. All its principals and senior consultants have prior experience as senior executives in the industry and/or as regulators or advisors to regulators and governments. We are therefore uniquely placed to advise industry, governments, policy makers and regulatory authorities on strategic ICT policy and regulatory issues and enabling roadmaps to the future. Akhet provides services to clients in the Middle East, North Africa, India, South Asia and the Asia Pacific region. The extensive senior level experience of the Akhet team as in industry and/or regulators, or advisors to governments and regulators, enables Akhet to:
give strategic advice to governments, regulators and operators on the full ambit of regulatory issues;
balance national public policy and strategic commercial objectives
give clear, pragmatic advice; and
act as honest brokers where difficulties or misunderstandings may exist between industry and key stakeholders such as governments and regulators.
Akhet has close professional relationships with leading internationally recognised telecommunications economic, financial and engineering consultancies as well as law firms. Akhet is able to partner with them where appropriate. Details are available upon request.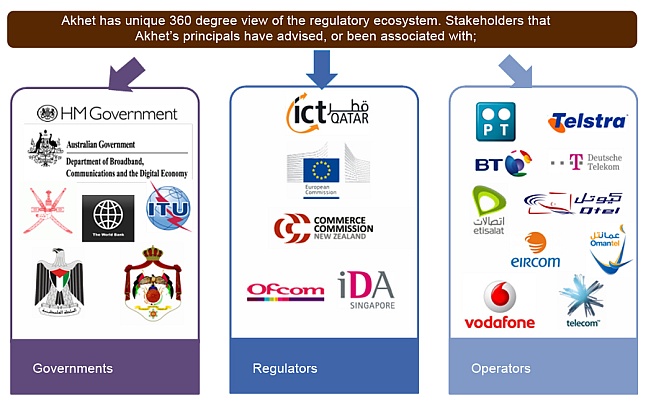 Akhet is a regulatory adviser to the SAMENA Telecommunications Council.
Akhet has entered into a strategic alliance with Genius Solutions LLC, to provide telecom related consultancy services in Oman.
Akhet has a strategic alliance with Mobile Financial Experts.